Weathering Life's Storms & Living to SHINE ON!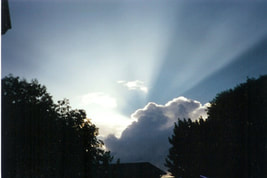 They say when life gives you lemons, make lemonade; so it stands to reason that when life sends you storms, you should find the silver lining and live to SHINE ON!

I have seen more than a few storms in my life, and while I allowed the storms to beat me down for awhile, eventually, I came through the darkness and found there was hope! A reason to move forward and go on!

Once I began to understand that the storms that we experience, endure, and sometimes barely live through, are only outside forces, and that life, hope, love, forgiveness and redemption were possible; it is then that I was able to see that I could live to SHINE ON- Share, Help, Inspire, Nurture & Encourage Others Now.

As time went on it became evident that others who were stuck in storms or dark places wanted to learn to SHINE as well. And now, I speak, write and coach to help those seeking a way out of the darkness to learn to live to SHINE ON too!

How do I do this? I offer a variety of solutions including one-on-one coaching, group activities, group studies, events, seminars, retreats and workshops.

Are you, your team or your group, ready to learn to live to Shine On? GREAT! Then let's get started!
---
This is certain, if you are going to teach it well, you are going to have to live it first! Raini Bowles

Update January 2018 -
And so it goes! We are currently in the midst of our own storm that began three years ago. While the storm is subsiding, the clean up will take years. We are a bit battered and bruised, tired and a bit water logged, but still hanging in there, enjoying the moments of joy and taking refuge in the shelter or our Lord, and the resilience He has graced us with.

However, I have greatly slowed down all of my activities related to this site, and am only speaking a few times each year. I am not currently doing much coaching, and I am only planning events about every other year at this time. (But my heart and head are FULL of ideas!)

If it seems like I have been silent you are right, it is just a season, and I'm working in the background all the time, but for now I am much quieter. Sometimes it can be powerful to sit silently before the Lord, and wait on His timing for things!

In the end, when the dust settles, our lives will have changed drastically, and maybe our family size too, by 5! You see three years ago we took on custody of 2 of our grandsons, and currently we are caring for 3 of their siblings through Foster Care. This means 5 little ones (ages 2-9) to care for, and with their backgrounds there are some special needs involved as well. We are at the point where the court is deciding if they stay permanently or go elsewhere, we are just pawns, doing as we are directed by people in another state. (We are thankful our team is good & caring, but far away.)

So, in case you have missed me, or desired to stay in touch, please know that this is just a temporary hiccup that will soon be resolved, one way or another through the courts, but ultimately, by the will of God.

I am still speaking, and staying in touch with my coaching world and friends, and I do intend to return to it at least part time or more in the hopefully near future, God willing!

There is a court hearing scheduled for Feb 7th regarding guardianship, I will update this site after that date when I have solid information to share.

Prayers are welcome!

Love,

Raini


---
---
---
---