Raini's Place..... A Place to SHINE!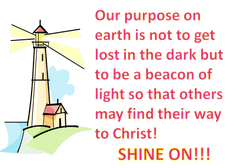 SHINE ON= Share, Help, Inspire, Nurture, & Encourage Others Now!

This word SHINE, really sums up what I desire to do... I desire to SHINE brightly as a reflection of Christ to the world in all that I do every day.

The acrostic for SHINE ON is a beautiful word picture God gave me one day as I was seeking my next steps with a group of women I was leading. Once I wrote it down I knew it was going to stick for quite awhile! It is my mission!

Daily I try to Share Gods good news and love, Help those struggling to walk in His light or seeking Him, Inspire them to carry on and help others, Nurture them through Gods word and Encourage them to continue and multiply the effect by reaching Others Now as they SHINE!

In short Raini's Place is the platform God has blessed me with in order to SHINE in the lives of other women through coaching, retreats, seminars, conferences, Bible Studies, fun activities, social gatherings, events, volunteer opportunities and outreach ministries!


---
---
My Statement of Faith
I accepted Christ as my personal savior when I was 8 years old, but I did not receive His Lordship, I held control and chose not to allow Him to change certain things in my life. While I loved Him and read His word and wanted to trust Him, I simply had a wall. After many years God broke down the walls of my heart and at the age of 20 I totally gave God free and complete reign over my life and my heart!

I have been abiding (walking closely) with Jesus since that time back in 1985 and He has been faithful to continue to make me more into the person He wants me to be each day. I have been baptized and I do attend Rock Harbor Church regularly. I am under the authority of my Pastor ( Keith Harrington) whom I keep closely informed of my doings, and I have a team of prayer warriors and accountability partners I communicate with often. I take my ministry very seriously and I realize that it is a gift God has given me. It is a privilege to share the things God lays upon my heart with His children, my sisters in the faith, and those still seeking Him.

As for a more formal position ... I believe this is a good summary of my beliefs and my doctrinal stance.

What I believe about the Bible
-I believe in the Scriptures of the Old and New Testaments as wholly inspired by God, and inerrant in the original writings, and that they are the supreme and final authority in faith and life. (2 Timothy 3:16-17; 2 Peter 1:19-21; Acts 17:11; and Isaiah 8:20)

What I believe about God
- I believe there is one God; that He is eternally existing in three persons: FATHER, SON and HOLY SPIRIT (See below for more info on the Trinity). I believe that He alone is the one creator that brought into being all we know and see! That He reigns supreme and is omniscient, omnipotent and personal all at the same time.

GOD THE FATHER
- I believe in God the Father, Creator of heaven and earth, perfect in holiness, infinite in wisdom and measureless in power. I rejoice that He concerns Himself mercifully in the affairs of men, that He hears and answers prayer, and that He saves from sin and death all who come to Him through Jesus Christ. (Matthew 5:48; Genesis 1:1; Hebrews 11:3; Nehemiah 9:6; Hebrews 1:2-3; Psalm 103:19; Ephesians 1:11; 1 Kings 8:27; and Psalm 90:2)

THE SON
- I believe in Jesus Christ, God's only begotten Son, conceived of the Holy Spirit, born of the Virgin Mary, sinless in His life, and making atonement for
the sin of the world by His shed blood and death on the cross. I believe in His bodily resurrection, His ascension into heaven, and His high priestly
intercession for His people. I believe in His personal, visible and triumphant future return to the world according to His promise. (Isaiah 9:6; Matthew
1:18-25; John 1:14; Hebrews 10:9; John 1:29; 1 John 2:1-2; John 14:3; 1 Thessalonians 4:15-17; and Acts 1:11)

THE HOLY SPIRIT
- I believe in the Holy Spirit, who came forth from God to convict the world of sin, convince the world of righteousness, and judgment, and to sanctify and comfort those who believe in Jesus Christ. (John 15:26; John 16:8-11; Romans 6:3-6; 1 Corinthians 12:13; 2 Thessalonians 2:13; and 1 Peter
1:1-3)

What I believe about People

MAN
- I believe God created man, the first being Adam, and that man was created in the image of God, that Adam sinned and thereby incurred not only physical death but also spiritual death, which is separation from God; and that all human beings are sinners by the seed of Adam, by nature, and by choice. (Genesis 1:27; Genesis 2:15-17; and Romans 3:10-12, 23)

SALVATION
- I believe that, God so loved the world that He gave his one and only Son, that whoever believes in Him shall not perish, but have eternal life. (John 3:16 NIV) I believe that all who receive, by faith, Jesus Christ as Savior and Lord are born again of the Holy Spirit and, therefore, become children of God. I believe that justification means that a person is declared righteous in the sight of God by grace alone, through faith alone, in Christ alone. It is a gift that no man should boast. I believe that true salvation is marked by fruit and life change and cannot be lost. (John 1:12; Romans 3:21-26; Ephesians 1:13; 2:8-10)

STATUS IN ETERNITY
- I believe in the bodily resurrection of the just and the unjust, the everlasting blessedness of the saved, and the everlasting, conscious punishment
of the lost. I believe in Heaven and Hell as it is explained in the Bible, an eternal life with God in His presence or an eternal separation from God in agony and torment. (Matthew 25:46)

HUMAN RESPONSIBILITY
- I believe that every human being has responsibility to God alone in all matters of faith. I also believe that each human gets to choose for themselves
which path they will take and even then which decision they will make. I believe there are consequences both good and bad for these choices and that we alone bear the responsibility for the choices we make. (Romans 14:11-12)

What I believe about the Church

THE CHURCH
- I believe in the Church -- a living, spiritual body in which Christ is the Head and of which all people abiding in Christ through salvation are members. I
believe that a visible church is a company of believers in Jesus Christ, associated for the purpose of leading believers toward maturity through worship,
instruction, fellowship and evangelism. I believe that Christ has committed to the local church, the ordinances of Baptism and Communion to be observed until He comes, and that Christ has committed to the church the responsibility to proclaim to a lost world their need to accept Jesus Christ as Savior and to recognize Him has Lord. I believe that human betterment and social improvement are essential products of the Gospel. (Ephesians 1:22-23; Romans 6:3-5; Matthew 28:19-20; 1 Corinthians 11:23-26; and John 8:31-32)

ATTITUDE TOWARD CIVIL GOVERNMENT
- I believe that it is the responsibility of the church (individually and corporately) to live in submission to the government, as long as that does not
violate Scripture or conscience and to pray for those who are in authority over us. (1 Timothy 2:1-3; Titus 3:1; 1 Peter 2:13-14; Acts 5:29; .Matthew 23:10; Romans 13:1-7)

ONE MORE THING! I think it is very important that we LOVE others as Christ intended and modeled, it is not my place to judge. I also believe that there are many times when people get into arguments over the gray stuff.... so trivial.... And I must confess I fall for this too, more often than I wish! But really I'm more worried about the black and white.... Heaven & Hell, Life & Death, Salvation & Separation! God will work out the gray stuff as long as we are seeking Him and staying in His word, keeping it in context and keeping short accounts with Him so that we may be living examples of the gospel in the flesh!!! Jesus lives IN ME!!! Let me show it!